Members
Grand Hyatt Taipei
Cafe Mart is available from June 22 to August 31, weekdays from 11:00 AM to 7:30 PM, weekends from 10:30 AM to 7:00 PM.

Check out their delicious menu!
Stay safe and savor 5-star "Gourmet to Go" from Grand Hyatt Taipei
Whether you've decided to stay home or crave for something different, satisfy your taste buds with Café Mart's freshly cooked cuisines curated by our culinary team. Delicious ready-to-eat dishes, meal boxes, set meals, and frozen food for 1 to 4 people are also available online, price ranging from NT$90 to NT$2,580, with 20% off discount when you order before July 31, 2021! Drive through service and door-to-door delivery available. Select from a wide variety of delicacies, including some of the most popular dishes from our 8 restaurants.
Guests with valid unused travel fair vouchers can also redeem Café Mart food items equal to the full amount stated on the voucher.
Enjoy 1 hour free parking when you make any purchase.
Café Mart
Available from June 22 to August 31, weekdays from 11:00 AM to 7:30 PM, weekends from 10:30 AM to 7:00 PM. Enjoy an array of savory dishes cooked a la minute at our 10 live stations, including roast beef, seafood, Indian curry, Cantonese styled roast meat, salad bar, Chinese cuisines, Japanese donburi, desserts and more! Pre-portioned dishes made fresh daily for convenient grab-and-go. Prices vary from NT$20 to NT$900 per dish. Purchase over NT$2000 before July 31 to receive an additional thousand dollar coupon.
Individual meals
Featuring 5 Chinese styled main dishes such as deep fried mackerel, braised pork knuckle with minced pork, steamed chicken with cordyceps flower, steamed pork rib with black bean, and braised vegetable with fermented bean curd (vegetarian). If you're craving for exotic flavors, take your pick from Japanese/Malaysian/Thai curry rice, Hainanese chicken rice or Singaporean laksa. For those who need a little extra veggies, we've prepared 6 salads, including grilled chicken breast, smoked salmon, assorted seafood, and more.
Gourmet dishes and Chinese Delight sets
Enjoy in the comfort from your home with beloved family. Select from roasted beef short rib (800 g), Nanyang style grilled chicken (1.5 kg), baked salmon in brioche (800 g), one of our three Chinese Delight sets for 4 persons. Add in a soup, grilled abalone mushroom or roasted potato, and finish up with a quintessential comfort food, cinnamon roll, tarte aux pommes à l'Alsacienne, etc.
Frozen delights
If you're cautious about going out, stock up on Grand Hyatt Taipei's scrumptious frozen ready soups such as Cheer's Laksa, Yun Jin Restaurant's Sichuan style fish fillet with pickled vegetables and Sichuan chili oil poached beef, Ziga Zaga's Italian spicy tomato sauce, spaghetti and beef tomato sauce, as well as the scallop and seafood truffle dumplings, etc.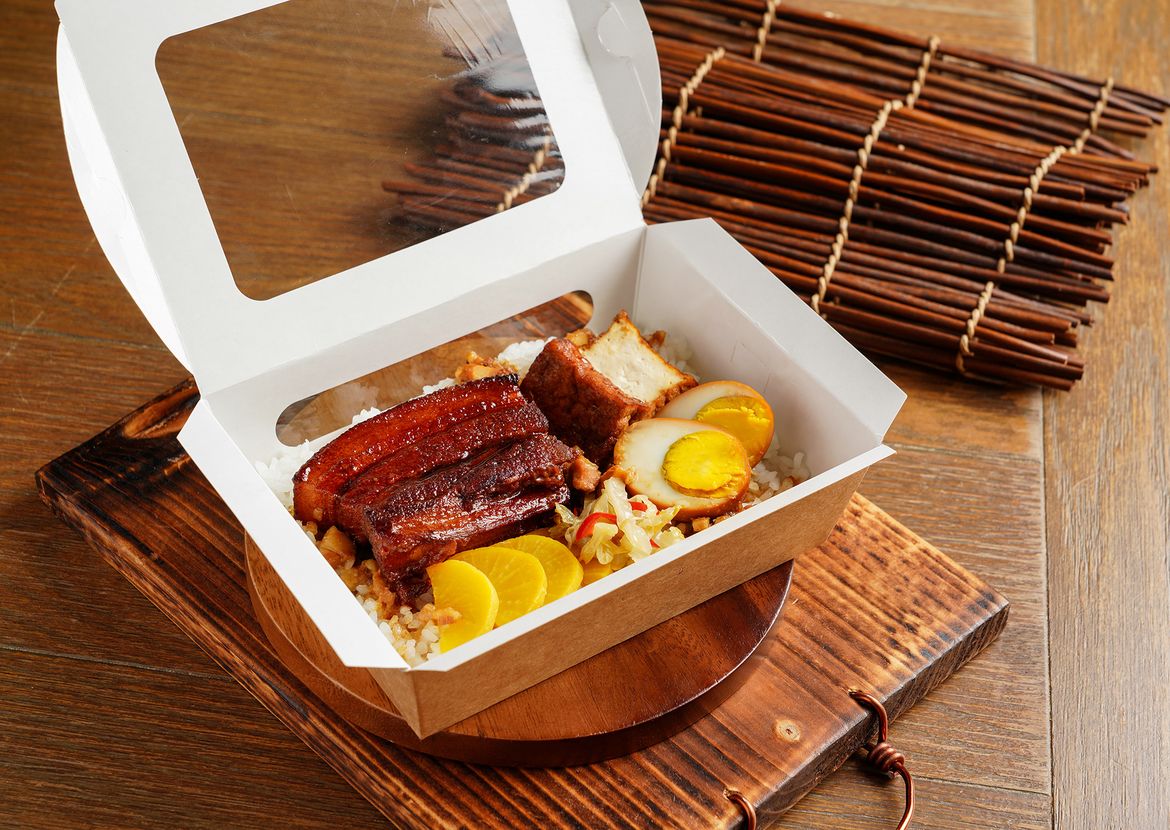 GOURMET TO GO
Mix and match your order, then all you have to do is set the table at home and get ready to feast from the comfort of your home! Check out the full menu ► CLICK HERE or call 02 2720-1200 ext. 3164 for more information.
Self pick up available at hotel's main entrance from 11:30-13:00 and 17:30-19:00
Free delivery for orders over NT$2,000 in Daan/Xinyi/Nangang/Songshan Districts. For addresses outside the above four districts, NT$250-NT$350 delivery fee applies.
Individual meal box & Chinese Delight sets, please place your order for lunch before 9:30 AM, and dinner before 3:30 PM on the pick up date.
For more information