Members • Grocery & Catering
Wu PaoChun Bakery
Wu PaoChun Bakery has launched their special promotion for upcoming Father's Day & Mid-Autumn Festival!
Father's day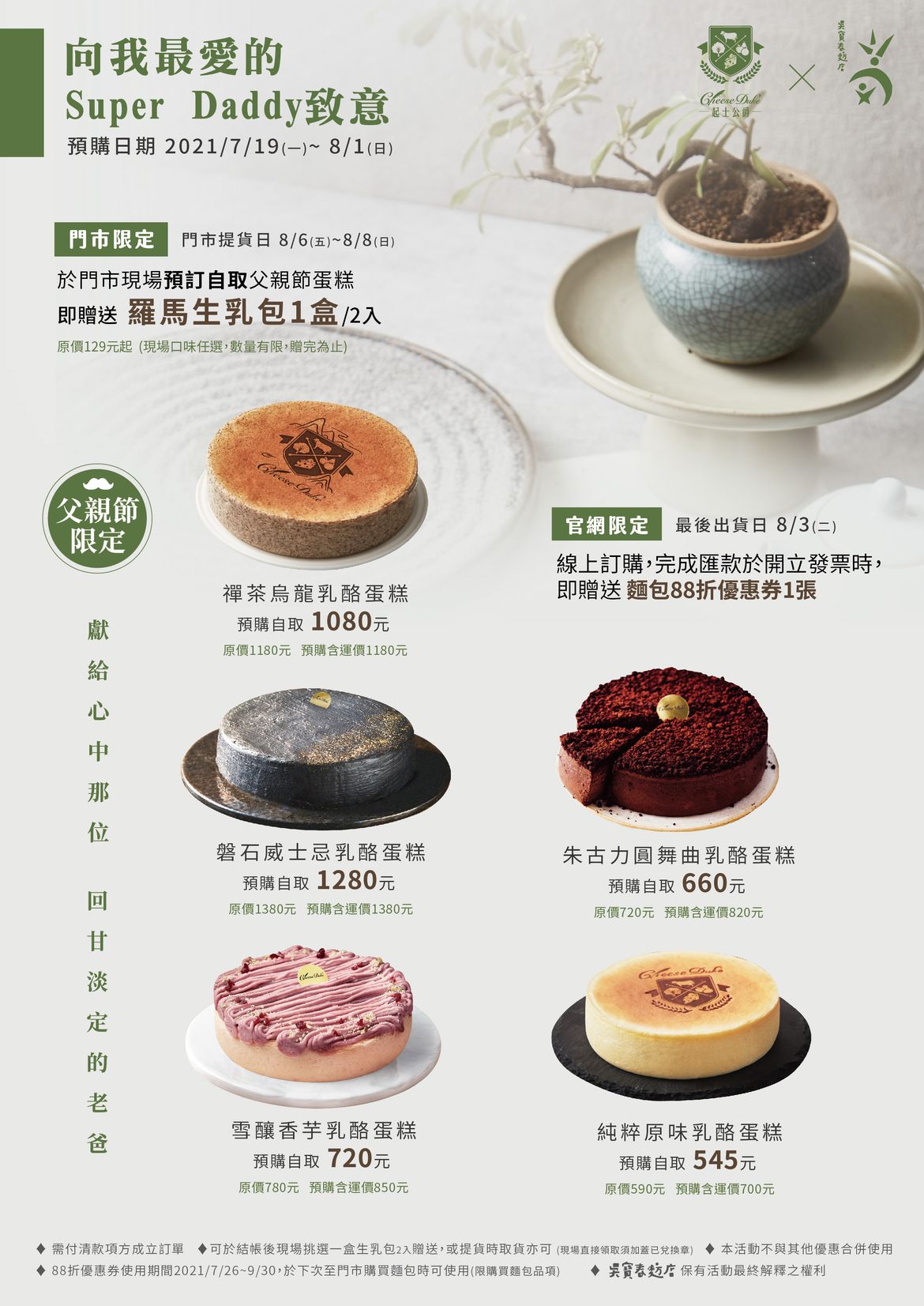 July 19th (Mon) - August 1st (Sun)
Place your order on our website, and you will get a "12% off bread coupon" after the payment is completed

Order on the official website: CLICK HERE

Book Father's Day cake at the physical store, and you will get a set of new "Roma Milk Pack" (2 pieces)
Mid-Autumn Festival
2021.07.09~08.15 Super early bird pre-order offer
2021.08.16~09.13 Benefit from Pre-order discounts
2021.08.16~09.21 Buy 10 boxes at the physical stores to get 1 box free
Official website ordering area : CLICK HERE
King yolk pastry
Highly recommended! Create the ultimate King yolk pastry
The crust of the king yolk pastry is inspired by the French king pie.
Made with French Campaillette Grand Siecle and clarified butter.
The calculated number of folds and the right kneading force make the crust crispy and distinct.
There are also ancient red clay pickled salted egg yolks for 25 to 30 days and red bean fillings blended in a golden ratio. The salty and sweet flavors complement each other, allowing the bean paste and egg yolks to perfectly blend in the taste buds, giving the ultimate taste experience!
Moreover, two-stage baking is adopted to achieve the ultimate deliciousness in the mouth!
Frozen consumption for maximum flavor!
After freezing, move to refrigeration and thaw for about 2 hours before tasting.
Bring to room temperature for 5 minutes, feel the cold and crisp taste!