Event report • The Chamber • Meeting & Exchange
Walk, Cycle, Run and Answer Quizzes for the Environment
Congratulations to SOC GEN APEX Taiwan for coming 1st in the CCIFI Sports Challenge!
With More than 200 teams, 11 participating CCIFIs, over 60 businesses mobilized from around the world in the CCIFI x SeaCleaners x Squadeasy challenge have collaboratively reached our target of traveling 80,000 km sustainably. The challenge aims to bring conviviality among the global network of CCFI Chambers, raise awareness of climate change and fundraise for The Sea Cleaners which collects floating plastic waste before it sinks or breaks down into microplastic. ​​​​​​
Why 80,000 km?
If we tied the 1.5 million single-use plastic bags that have been used every day, that would be the distance of going around the globe 2 TIMES! Since we traveled the distance sustainably, we have saved approximately 26,659 KG of CO2!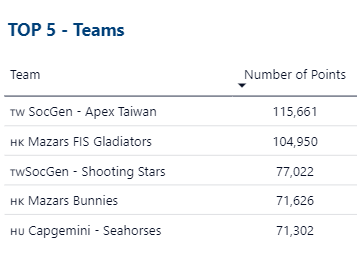 Our Impact
Despite the monsoon season hitting hard on Taiwan, we congratulate SocGen-Apex Taiwan and SocGen-Shooting Star for ranking FIRST and THIRD on the global league table. We should also be proud as TAIWAN is also the FIRST in terms of weighted points by country.

Click on the Dashboard to learn more
Dashboard
Success Stories behind SOC GEN APEX Taiwan
Thanks for CCIFI Challenge and I managed to visit many new places with my U-bike! 100% enjoyed this great event !
This is a very meaningful activity. I was surprised that we could win the championship in the end. I don't think we would have been able to get to this point without our captain's constant spur. I also want to thank all my teammates for their efforts. It feels great to exercise together! Looking forward to the next challenge.
So appreciate for having opportunity to join this event. In the past one and half month, it fully changed my life behavior,(walk, cycling to work instead of driving). It's pretty meaningful for me, and thanks for team mates engagement during the competition. Awesome team work! However, the event was completed, I think I will keep GREEN and fight for Earth.
Although we have completed a similar 7 day challenge in Soceite Generale last year, this one with CCIFT is even more challenging, mainly due to it longer time span of 1.5 months. I challenged myself to wake up at 5-ish every morning in order to complete the run/ride mission in the Taipei city. Thanks to the encouragement from my team captain and teammates, and the super performance of the other teams, they drive me to continue this journey until the finish line!
It was a tough challenge both mentally and physically as it was 1.5 month long and during the "plum rain" season! I am happy with our success and think we deserves it because my team was very committed to do the sport everyday non-stop in the morning, during lunch break, after work and of course on weekends!!! During the period, apart from the kickoff meeting (to go through the rules and how to use the App), we also had weekly catchup on Boost strategy & experience sharing from team member's recent exercise, and encouraging each other.

I really enjoyed the team event especially it was for a good cause. One more bonus I received from this challenge is my body is lighter, firmer and happier!!!