Webinar • Event report • The Chamber
Post-Pandemic Economic and Industry Development Trends in Taiwan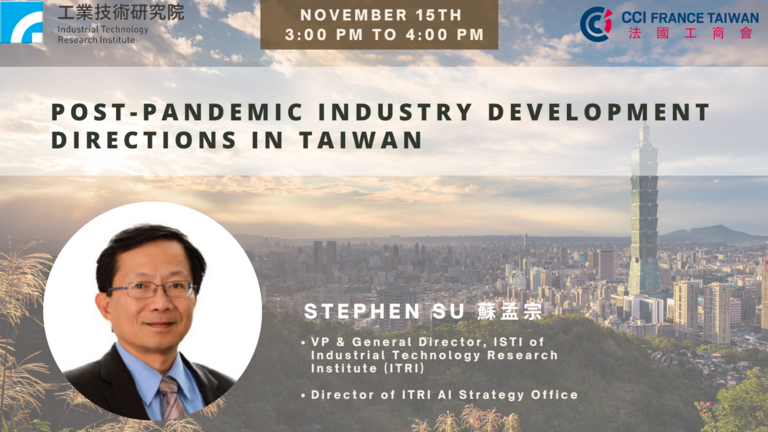 On November 15th, we were pleased to invite Mr. Stephen Su, the VP & general director of ISTI of Industrial Technology Research Institute, Taiwan (ITRI) to have a presentation about Post-Pandemic Economic and Industry Development Trends in Taiwan.
Despite going through challenging period with the COVID-19 pandemic, Taiwan's economics and industry development have experienced growth in 2020-2021. Looking beyond the pandemic and toward 2030, there are few promising business opportunities for Taiwan's industry ecochains to link with international partners.
During the webinar, Mr. Su discussed about the economic trends, industry development trends, and international linkage for future industry ecochains.

As AI, IOT, and 5G promote new economy and stimulate market demands, semiconductor is especially a backbone for many smart applications. The pandemic even accelerates the transformation and EV development. According to Mr. Su, Taiwan semiconductor industry plays an essential part in global ecochain. Our industrial clusters and technological superiority are characterized high degree of resilience during pandemic, being the benchmark of Harvard Business School's semiconductor cluster cases.

ITRI also launched the Rain Forest of the South Project, a compound semiconductor cluster aims to promote the whole process of compound semiconductor manufacturing, develop automotive applications with key factors and increase Taiwan's industrial competitiveness.

Mr. Su mentioned that the net zero and resilient eochain are targeted, and the global EV market is expected to develop rapidly. Taiwan can be the world's R&D or OEM production base in regards of the technological advantages of automotive electronics and the manufacturing capabilities of precision machinery.
A warm thank you to Mr. Stephen Su for this interesting presentation!

The replay and ppt of the webinar is only for members, please LOGIN to your member's account.