Event report • The Chamber
Meet the Mayor: Taipei City's Global Digital Transformation
On September 23rd at 16:30, we were pleased to receive Dr. Wen-Je Ko (柯文哲), the Mayor of Taipei City for our webinar: Meet the Mayor: Taipei City's Global Digital Transformation.

Mayor Ko gave an in-depth introduction about the overall industry, economic and trade and investment environment of the city.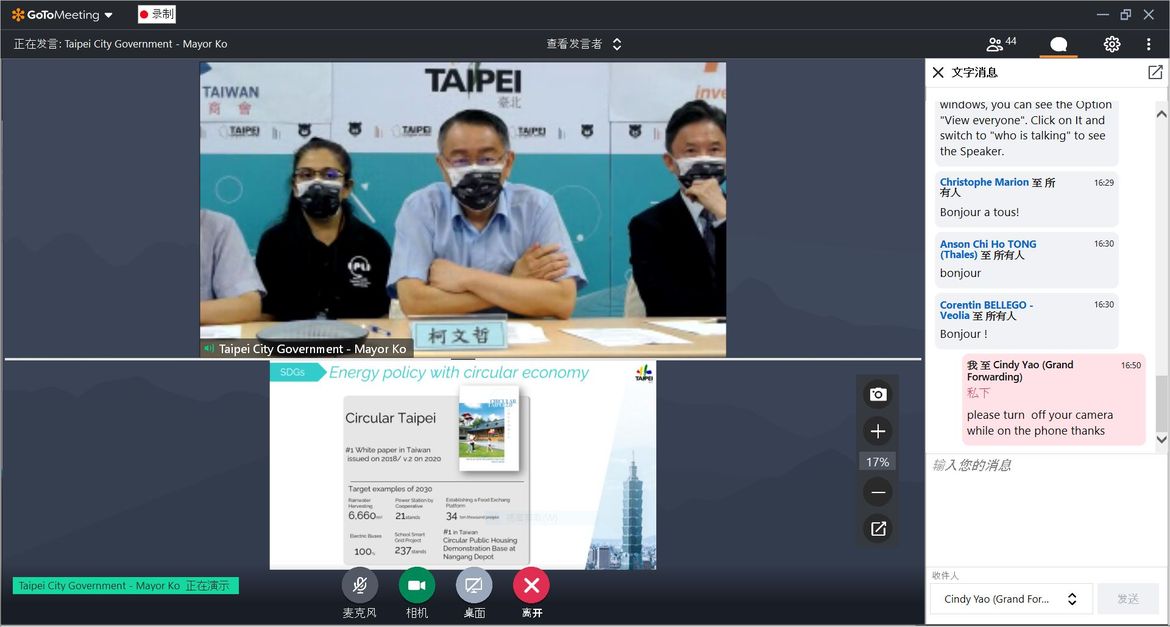 According to Mayor Ko, thanks to its geographical location advantages, Taipei City has always been Taiwan's most important economic core with high-quality talents, stable and abundant capital market funds, solid infrastructure and an international environment. Taipei is the first choice in Taiwan for foreign investment, and its policies, talents, and taxation system all attract foreign businessmen: from 2015 to 2021, the cumulative amount of overseas Chinese investment (FDI) in Taipei City exceeded US$38 billion. There are 2,246 newly established foreign companies each year, and more than 70% of foreign companies are registered in Taipei. Among the world's top 500 companies, 147 have established operations in Taipei City.
Taipei city government is also committed to promoting innovation and entrepreneurship. The available municipal land and building has been taken as a base for Innovative Bases Incubation, allowing new industries to settle in, including digital, fashion, cultural and creative, blockchain, etc. In 2016, the ITO Investment Service Office (Invest Taipei Office) was established to provide a one-stop service for foreign companies willing to invest in Taipei.
Mayor Ko also explained the transition to a smart city, with circular economy and digital transformation etc. During his two terms as Taipei Mayor, his endeavor in innovation and startup support has led the trends of city governance.
If you attended the webinar and wish to receive the Mayor's Powerpoint presentation, please email us at event(@)ccift.org.tw
The replay of the webinar is only for members, please login to your member's account.