HR Focus • Members
Kuehne + Nagel recognised by HR ASIA as one of The Best Companies to Work For in Taiwan 2021
Third-time winner of the high profile employer award in 5 years 五年內第三度獲獎
Consolidates Kuehne+Nagel's leading position in the Transportation and Logistics category 更加奠定德迅集團於運輸與物流產業的領導地位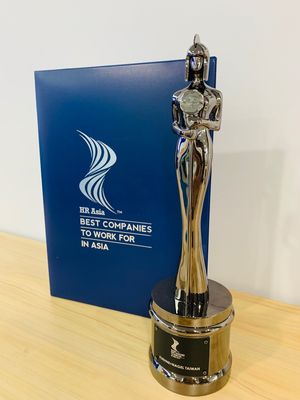 Kuehne+Nagel Taiwan is enlisted as one of the "Best Companies to Work For in Asia 2021" in the Taiwan market.

The selection process included 295 companies with sizeable local operations in the Taiwan market, among which 40 nominees are from Transportation and Logistics industry. Winning this high profile award presented by HR Asia is the recognition of our motivating work environment, employee engagement, and leadership.

Catherine Sang, General Manager of Human Resources in Kuehne+Nagel Taiwan said: "We are extremely honoured to receiving this accolade. At Kuehne+Nagel, we are proud to be able to build a career platform that
provides flexibility yet encourages openness, innovation and empowerment."

"We pride ourselves on having the finest colleagues in the industry. We are always inspired by our people to deliver best-in-class services to customers, and to deliver progress to society. In the past 20 months, we
successfully navigated challenging times. This award came as a reminder to celebrate our achievements, whilst encouraging us to continue our journey as the best company to work for and the best company to do business with" said Frederic Chevallier, Managing Director of Kuehne+Nagel Taiwan.

To view The HR Asia –The Best Companies to Work For in Taiwan 2021 full list, CLICK HERE
---

台灣德迅榮獲 亞洲權威人力資源刊物《HR Asia》所頒發的 2021亞洲最佳企業雇主獎

德迅Kuehne+Nagel 名列臺灣區 "2021年亞洲最佳企業雇主獎"

評選過程涵蓋295間深具規模的臺灣在地企業參與角逐,其中四十家企業來自運輸與物流產業,惟有四家同業業者入選,德迅即為其中之一。獲得亞洲權威人力資源刊物《HR Asia》的獎項,更是對德迅工作環境、員工參與以及領導力的最佳肯定。
"我們感到非常榮幸能獲頒獎項,更是肯定台灣德迅積極建立深具彈性的工作平台,鼓勵開放、創新,並賦予員工參與權等各項努力"台灣德迅人力資源部總經理,宋秋雁表示。

"德迅深以擁有產業最佳人才為傲。同仁們提供的高規格服務,以及對社會的正向發展,常讓我們受到許多啟發。在過去20個月裡,我們成功挺過了艱難的時刻。而這項殊榮更是對於各項成就的最大肯定,也同時是我們持續努力成為最佳企業雇主與最佳合作夥伴的重要動力。" 台灣德迅執行董事,齊偉利表示。

想了解《HR Asia》2021最佳企業雇主完整獲獎名單,請參閱 連結。
With 74,000 employees at 1,400 locations in over 100 countries, the Kuehne+Nagel Group is one of the world's leading logistics companies. Its strong market position lies in sea logistics, air logistics, road logistics and contract logistics, with a clear focus on integrated logistics solutions.
德迅集團是全球領先的物流企業之一,在全球100多個國家,超過1,400多個地點,擁有74,000名員工。從海運、空運、合約物流到陸路運輸業務都領先業界,並專注提供透過IT技術整合的物流服務方案。