Members • Grocery & Catering
Join Regent Taipei on a Chinese New Year Holiday Unlike Any Other!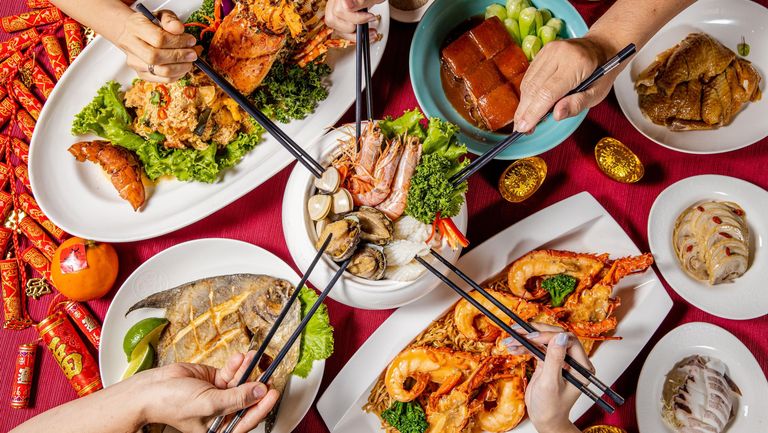 Brand New CNY Room Package Presents "Captain Hook" Night! Featuring a Variety of Feasts to Celebrate the Holidays!
As the nine-day Chinese New Year holiday approaches, the demand for shared feasts is bound to increase greatly. Regent Taipei has specially launched a series of catering and room packages to meet market demand and fill the holidays with food and joy. From now until February 6st, the hotel is launching its "New Year Holiday" room package to kick off the year of the tiger. Accommodation starts at $2,150 NTD per person per night and guests can use facilities such as our rooftop swimming pool and cinema overlooking the city's skyline and enjoy a hearty buffet breakfast at Brasserie the next day. Guests can also choose the "Captain Hook Night" room package from February 3rd to 5th. This room package includes admission to the exclusive "Captain Hook Night" held in the Grand Ballroom and a set of buffet breakfasts the next day for $4,900 NTD per person per night.
From January 31st to February 5th, various restaurants will also be offering a series of sumptuous feasts including the Grand Ballroom's Taiwanese "Year of the Tiger Reunion Banquet", Brasserie's "3-in-1 Super Buffet", Mihan Honke's "Luxurious Surf & Turf Hot Pot Feast", Robin's "Western Surf & Turf Feast", and Silks Palace's Cantonese "Tiger New Year Feast". In addition, join us at our hotel lobby at 12:00PM February 1st to watch a special lion dance as we ring in the new year.
"Captain Hook's Game Night" Room Package
This upgraded party package is specially for guests staying from February 3rd to 5th. On the night of check-in, guests can go to the grand Grand Ballroom on the third floor and enjoy an eastern and western inspired feast as well as listen to live music with their loved ones. Guests can also participate in games including "Millionaire's Challenge", Russian Roulette, craps, poker, etc. and have the opportunity to win a one-night stay at Regent's Garden Suite worth $150,000 NTD!
"Welcome the Year of the Tiger" Celebrate the New Year with Your Family
To ring in the year of the tiger, Regent Taipei's Grand Ballroom situated on the third floor will hold a "Welcome, Year of the Tiger" dinner party on January 31st. There will be many activities such as silhouette art, writing spring couplets, and clown and magician performances for all to enjoy. In addition, sumptuous dishes will also be served for families and friends at $33,800 NTD for 10 persons per table. Don't miss out on this fun-filled annual reunion feast.
Other hotel restaurants such as B3's Mihan Honke will serve surf and turf hot pot sets featuring Boston lobsters, U.S. boneless beef short ribs, oysters, and other fresh ingredients. Second floor's Robin's offers the ultimate feast of Pacific lobster, Japanese A5 wagyu beef, U.S. rib eye, and more for consumers who prefer western cuisines.
Each restaurant has the right to revise the content of the above information.
The above prices are subject to 10% service charge, please contact:
Regent Taipei Hotel reservation line (02) 2523-8000 ext. to restaurant
Silks Palace reservation line (02) 2882-9393 ext. 605~609
The above prices are subject to a 10% service charge
Regent Hotel reminds you that drinking too much alcohol is harmful to your health.
For Reservations: www.regenttaiwan.com or please contact ­­­­­­­­­­(02) 2523-8000 (ext. Reservation Team)
Regent Taipei Address: No. 3, Ln. 39, Sec. 2 ZhongShan N. Rd.