Corporate social responsibility
Air Liquide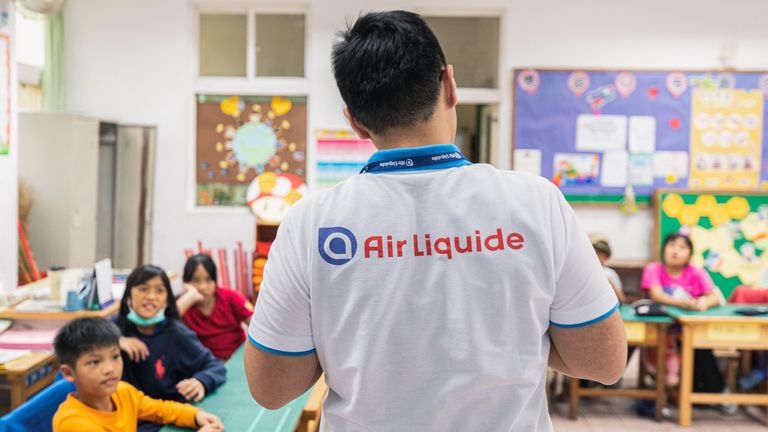 The One and the Only Persistent Safety Education in Taiwan
Starting in 2017, Air Liquide Far Eastern (ALFE) and Taiwan Semiconductor Manufacturing Company (TSMC), a key Air Liquide client, have worked together in the "School Education Program" at Mekarang Elementary School in Hsinchu for 4 continuous years. By taking turns every week, TSMC conducts popular science education, while ALFE delivers gas science and safety education. Through the joint efforts of two companies, they hope to enrich the children's knowledge about science and safety, and to unlock the door to a wider world of knowledge to these relatively underprivileged kids.

Mekarang Elementary School is located in the rural area and in the vicinity of Ataiya's Mekarang tribe. Most of its students are aboriginals and nearly 60 percent of them are from vulnerable families. In Taiwan, a high percentage of aboriginal people perform manual labor, with many of them working in the construction field. However, since most of them lack essential knowledge about safety education from a young age, occupational injuries have become common.

With the aim of enlightening aboriginal students' awareness and attention to safety, ALFE planned a two-semester program of the School Safety Education targeting the 4th grade students of Mekarang Elementary School. We have introduced different gases such as oxygen, nitrogen, hydrogen, carbon dioxide...etc to the students. We also covered topics such as laboratory safety, home safety, fire safety, chemical safety, and electrical safety. Through stimulation and company, we hope these aboriginal students with limited resources can enjoy exploring the world of knowledge as well and pay attention to the importance of safety from a young age.