和無家者相遇,重新找到自己身為「人」的價值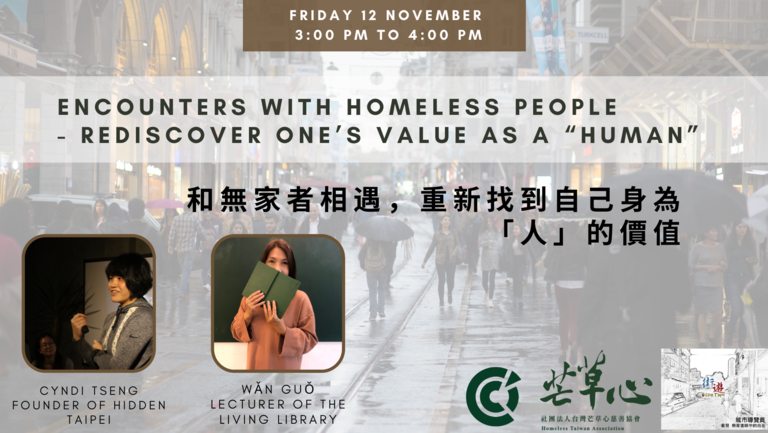 It all begins from a trip to Europe after life was derailed.
On November 12th, we are pleased to invite Cyndi TSENG to share her experiences about how she found her life vocation along the way.
She is the founder of Hidden Taipei (街遊), a public communication program run by Homeless Taiwan Association.
Never thought that she would end up on the street, Wǎn guǒ (碗粿) was a one of the few female homeless.
Why was her life derailed? How did she find her strength to get back on track ? She will share her story and please get ready to walk a mile in her shoes.
一切都從人生脫軌後的一場歐洲之旅開始。
11月12日,我們邀請到街遊 Hidden Taipei 創辦人曾文勤來分享她人生經驗,一場旅行將如何改變她對無家者的觀感,如何與芒草心的夥伴們一同努力,在過程中找到人生的志業。
從來沒有想過自己會無家可歸的碗粿,曾是街頭上少數的女性無家者之一,她的人生為何脫了軌?又怎麼找到力量重新站起來呢?歡迎大家帶著開放的心胸,一起聆聽她的故事。