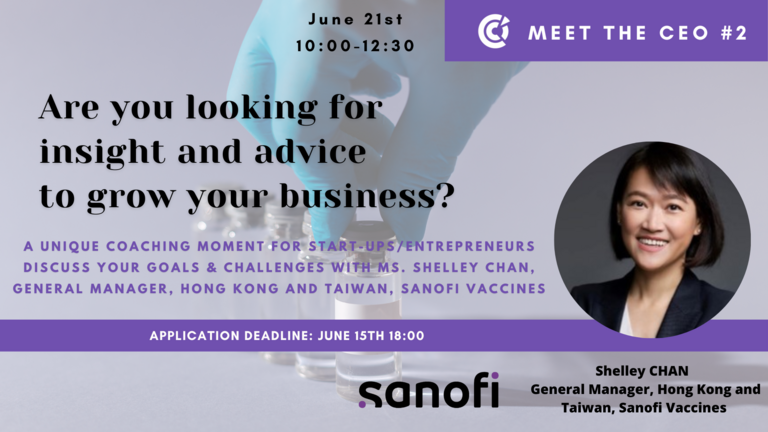 PLEASE NOTE: There's been time changes, this event would occur from 10:00 to 12:30 in the morning.
Are you looking for insight and advice to grow your business?

Seize this unique coaching moment to discuss your goals & challenges with

Shelley CHAN, General Manager, Hong Kong and Taiwan, Sanofi Vaccines.

This session can be conducted in English or Mandarin.
Application Information:
Submit your application with a 5-minute introductory presentation by June 15th.
3 companies would be informed on June 19th with meeting details.
Please arrive at Sanofi Taiwan at your assigned time-slot on June 21st.
Event Rundown:
An opening by the CCIFT General Manager, Stéphane Peden.
Introducing your company/brand/product/service and topics of concerns to Shelley Chan (Pitching is strictly prohibited)
Exchange and Discussions.
Fill-in event feedback form.
What is the Meet The CEO Program?
The MEET THE CEO program gives entrepreneurs and start-ups the chance to meet CEOs of big companies in Taiwan. The CCIFT invites CEOs of leading companies to meet with representative of SMEs where industry trends, business strategies, marketing tips, goals and challenges could be discussed and exchanged.
Goal For The Candidates
The selected companies can meet professionals from a specific sector to get insights and advices to grow their business, to access customized coaching. You can discuss about projects, get customized advice, get professional feedback, access contacts or share your experience...

Goal For The CEO
The CEO can learn about new projects, share their experiences and help entrepreneurs to face challenges. It's also a good opportunity to improve the company's CSR & visibility.
Requirements
You are an entrepreneur, a start-up or SME.
Register by filling in the application form and submit your slides in PDF format.
For detailed information about the documents, please read through the following document.
Sanofi Taiwan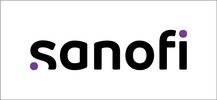 Event Location