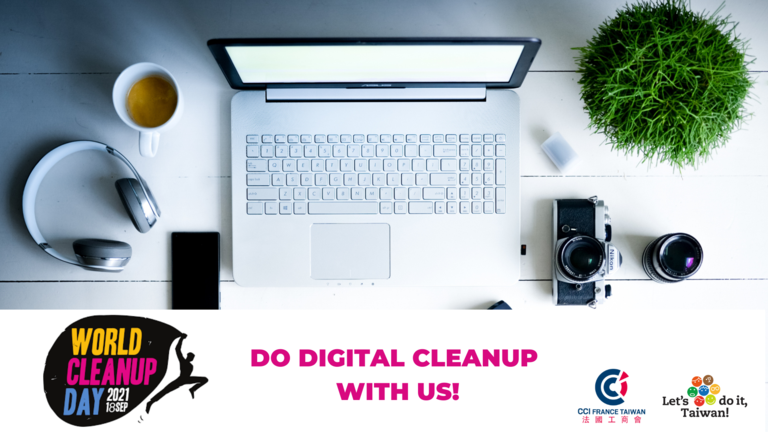 Join digital cleanup day 2021! Let's take out our digital trash and save our environment!

加入2021年數位大掃除!讓我們拿出我們的數位垃圾,拯救我們的環境!
From September 1st to 18th, the CCIFT invite you to do Digital Cleanup with us! By submitting your achievements, you might be featured on the worldwide video of World Cleanup Day!
How to participate
Download the banner of 2021 World Cleanup Day and add it to your photos ► CLICK HERE

Upload your video, pictures about your digital cleanup action by September 18th ► CLICK HERE
You can refer to CCIFT's photos and video below as example.
(Please note that the link is only for member companies. If you are non-member or wish to participate individually, please use this link ► CLICK HERE)
As the video and pictures will be edited and combined in the end, please do not add background music to your video.
How to do a digital cleanup?
Companies and organizations can make changes in everyday work flow that help reduce the ecological footprint of digital systems significantly. This requires a little time and willingness to make strategic decisions and implement simple changes. When you think of your workflow, you must evaluate what works and what doesn't and how you can make the system work better for everyone.
公司和組織可以透過改變日常工作流程,幫助顯著減少數位系統的生態足跡。這需要一點時間和意願來做出有策略性的決定和實施簡單的改變。當您在思考您的工作流程時,您必須評估哪些有效,哪些無效,以及如何使系統更好地為每個人工作。
STEP 1 第一步
KNOW WHAT IS TRASH, WHAT IS NOT 知道什麼是垃圾,什麼不是
What is digital waste in your organization? Which digital procedures create an environmental footprint in your organization?
Digital waste could be anything from pointless copies, to forgotten backups to customer records kept for years just in case. But your digital footprint also increases by sending emails with or without files back and forth, using virtual workspaces irregularly, backing up large files on servers in real time, holding long meetings with videos streaming etc. A great way to start figuring this out is to make an overview of what is business critical, what kind of records are required to be kept by the law, and by evaluating the efficiency of your digital procedures.

您公司中的數位浪費是什麼?哪些數位程序會在您的組織中產生環境足跡?
數位垃圾可以是任何東西,從無意義的副本到被遺忘的備份,再到保存多年的客戶記錄以防萬一。但是,您的數位足跡也會因為以下方式而增加:來回發送夾帶或不帶文件的電子郵件、不定期使用虛擬工作區、即時備份伺服器上的大文件、舉行帶有影像串流的長時間會議等等。開始解決這個問題的一個好方法是概述什麼是關鍵業務,法律要求保留哪些類型的記錄,以及評估數位程序的效率。


STEP 2 第二步
MAP YOUR DIGITAL WASTE 找出您的數位垃圾
Find out where your forgotten digital trash is: check your backups, e-mails, expired records and documents, what is kept on servers, and where large files are kept.
找出您遺忘的數位垃圾在哪裡:檢查您的備份、電子郵件、過期的記錄和文檔、伺服器上保存的內容以及大型文件的保存位置。
STEP 3 第三步
ORGANIZE A DIGITAL CLEANUP 公司數位打掃
Educate your staff about digital waste and organize a digital cleanup day with your staff, you can encourage them to clean in their personal and company devices. Organize a competition, or challenge your co-workers to participate. Get rid of all junk and keep what is business critical in cloud servers. Include your IT department in coming up with solutions that would cut down on wasteful digital practices.
對您的員工進行有關數位廢物的教育,並與您的員工一起規劃數位大掃除,您可以鼓勵他們在個人和公司設備中進行清理。規劃比賽,或挑戰您的同事參與。擺脫所有垃圾並保留雲端伺服器中的關鍵業務。包括您的 IT 部門提出可以減少浪費的數位實踐的解決方案。
STEP 4 第四步
IMPLEMENT PRACTICES THAT HELP CONTROL THE DIGITAL WASTE ISSUE 實施有助於控制數位垃圾問題的做法
Automate deletion of expired files, organize virtual workspace in a way you would organize an office, have less and more effective video meetings, make sure you are using your virtual office effectively, educate your employees in digital practices, and give up systems that don't serve you well.
自動刪除過期文件,以您組織辦公室的方式組織虛擬工作區,召開越來越有效的視訊會議,確保您有效地使用虛擬辦公室,教育您的員工進行數位化實踐,並放棄不適用的系統很好地為您服務。
CLICK HERE to know more about LET'S DO IT TAIWAN
CCIFT is glad to participate in Digital Cleanup!
If 70 million streaming subscribers were to lower the video quality of their streaming services from HD to Standard, there would be a monthly reduction in 3.5 million tons of CO2 – the equivalent of eliminating 6% of the total monthly coal consumption in the U.S 如果 7000 萬串流媒體用戶將其串流媒體服務的影片畫質從高清降低到標準,每月將減少 350 萬噸二氧化碳——相當於美國每月煤炭消耗總量的 6%
An employee who participates in 15 hours of online meetings with their camera turned on, created 9.4 kg CO2 a month. By turning off the video he would save the same amount of emissions that are created by charging a smartphone each night for over 3 years (1151 days) 一名員工在開啟鏡頭的情況下參與 15 小時的線上會議,每月會產生 9.4 公斤二氧化碳。透過關閉視訊,他將節省與每晚為智慧手機充電超過 3 年(1151 天)所產生的排放量相同的排放量
It takes more energy to mine for BitCoins than the whole of New Zealand consumes in a year. It is important to remember that mining BitCoin produces nothing but a few bytes of encrypted data. It consumes tremendous amounts of energy with computing without actually creating a product or a service of use. 開採比特幣所消耗的能源比紐西蘭一年消耗的能源還要多。重點是,挖掘比特幣只會產生幾個byte的加密數據。它在計算過程中消耗了大量能量,而沒有實際創建產品或使用服務。
With the energy you use for video streaming ( on average 2 hrs per day), you could commute up to 3000km or 2000 miles with an electric scooter a year. That is a transport budget of 8km or 5 miles per day. 以您用於影像串流的能源(平均每天 2 小時),您可以使用電動滑板車每年通勤 3000 公里或 2000 英里。這是每天 8 公里或 5 英里的交通預算。
Google uses 15616 MWh of energy each day, this is more than Hoover Dam produces and it would power a whole country with 1 million inhabitants for a day. Google 每天使用 15616 MWh 的能源,這比胡佛水壩生產的能源還多,它可以為一個擁有 100 萬居民的國家提供一天的電力。
Our limitless consumption of data today needs 3 times more energy than all the solar panels in the world can produce. Our internet craze works mostly on fossil fuels, so clicking, scrolling, and streaming is responsible for more than 870 million tonnes of CO2, adding more force to the deadly global warming trend. 我們對網路無止盡的消耗所需要的能量是世界上所有太陽能電池板所能產生的能量的 3 倍。我們的網路狂熱主要依賴化石燃料,因此點擊、滾動和串流傳輸產生了超過 8.7 億噸的二氧化碳,加劇了致命的全球變暖趨勢。
Each day 281 Billion emails whoosh around our planet. Refreshing, reading, and replying to our work emails takes more than 3 hours a day, 5 if you include personal email accounts. It can take more than 23% of our workday, more than 20 weeks a year. Organizing your emails, sending less of them, and using alternative ways of communication, like co-working spaces, would free that time, but also limit the ineffective practice of organizing work through emails. 每天有 2810 億封電子郵件在我們的星球上呼嘯而過。每天刷新、閱讀和回覆我們的工作電子郵件需要 3 個小時以上,如果包括個人電子郵件帳戶,則需要 5 個小時。它可能佔用我們工作日的 23% 以上,一年超過 20 週。整理您的電子郵件,減少發送郵件,並使用其他溝通方式(例如共同工作空間)可以騰出時間,但也可以限制通過電子郵件組織工作的低效做法。
For more information, please click here