Members
Regent Taipei and Lion Travel Jointly Launched Taiwan's First Five-Star Gourmet Tour on Train Restaurant - "The Kitchen - An Extraordinary Feast"
Jointly Launched Taiwan's First Five-Star Gourmet Tour on Train Restaurant
After a year of meticulous planning, the latest Taiwan Railway Train Restaurant "The Future" was officially released in early March this year. Inspired by the various luxury rail tours around the world, Lion Travel and Regent Taipei jointly collaborated with "The Future" and launched Taiwan's first fine-dining train tour - "The Kitchen - An Extraordinary Feast". The tour allows guests to enjoy Taiwan's beautiful railway scenery, while tasting five-star delicacies, elevating Taiwan's tourism to an international standard.
Taiwan Railway Train Restaurant "The Future" is equipped with restaurant standard carriages such as, two dining carriages with 26 and 28 seats, meal preparation, business class, living room and bar carriages. The specially designed train underwent extremely thoughtful construction which required tremendous hours of numerous testing and adjustments, whether it'd be hardware facilities, service procedures, or meal designs. "The Future" is an innovative way of tourism that is not only unprecedented in Taiwan, but also a monumental step towards a more advanced and modern high society. In hopes of attracting more people from all over the world, "The Future" aims to provide guests with Taiwan's most unique and memorable dining tour.
Regent Taipei has always taken pride in its successful food and beverage businesses. After bringing five-star cuisines and services to planes, cruise ships, and double-decker sightseeing buses, Regent Taipei joined hands with Lion Travel and launched the first luxury dining tour, "The Kitchen - An Extraordinary Feast" on Taiwan Railway Train Restaurant "The Future".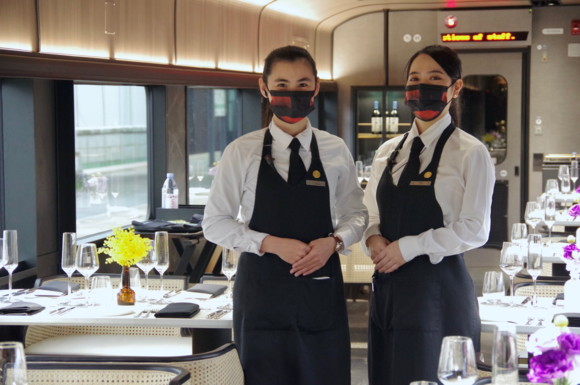 "The Kitchen - An Extraordinary Feast" menu features seasonal delicacies and produce from different destinations during the train tour, each carefully crafted and delivered by Regent Taipei's top culinary team, and elevated with a twist of Regent's signature dishes. The menu changes seasonally, thus guests may experience new surprises as they book along the seasons. Regent Taipei stated that "The Kitchen - An Extraordinary Feast" brings together first-class chefs in Regent's various hotel restaurants, and is the most cross-departmental collaboration in its history. Chefs including Executive Chef of Regent Taipei, Bernard Noël, who has worked in well-known Michelin restaurants in Paris, Executive chef Tony Wu of the Banquet Department, and Grill Chef William Tsai of Robin's Grill were all involved in the meal planning of this tour. Intricate tablewares were also selected to provide guests with the most complete dining experience.