Webinar • Event report • The Chamber
Meet the Mayor - Taoyuan: Sustainable & Digital Transformation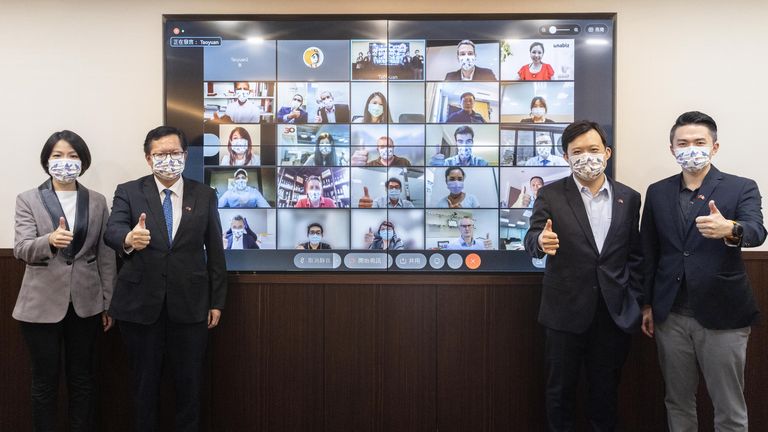 On August 31st at 16:00, we were pleased to receive Mr. CHENG Wen-Tsan (鄭文燦), the Mayor of Taoyuan City for this virtual meeting!

He shared with 32 French business members from high-tech, semiconductor, aerospace, environmental protection, solar energy, logistics, Internet of Things and wine industry about how Taoyuan City' embarks on its journey towards a sustainable smart city through its diverse low-carbon and digital transformation efforts.
According to Mayor Cheng, Taoyuan City is not only an investment-friendly city, but also ranked first in terms of economic power and employability. As an important logistics center, 90% of Taiwan's logistics companies have chosen to set up location in Taoyuan. How to balance economic development and sustainable environment is an important issue for Taoyuan city's urban development. Taoyuan City's one-stop investment services assist companies in matching talents and land, and strengthen water and power infrastructure in order to encourage foreign investment.
The meeting was opened by our General Manager Stéphane PEDEN. He mentioned that the magpie face mask prepared by the Taoyuan City Government symbolized the friendship between France and Taoyuan. He also thanked the government for supporting our webinar to facilitate bilateral dialogue. The Chairman of CCIFT Christophe Marion had pre-recorded a video and showed that France and Taoyuan always had a deep connection: the CCIFT had the honor to invite Mayor CHENG to attend our Gala Dinner for 4 consecutive years, and this time, we thank Mayor CHENG for having a dialogue with our members, and we look forward to developing more cooperation and exchanges with Taoyuan City in the future.
The Director of French Bureau in Taipei, Jean-François Casabonne-Masonnave also sent his greetings to Mayor CHENG and our members through a video. He indicated that the environmental issues related to the survival of mankind and society are also a priority for the common values of Taiwan and France. In the face of climate change, local governments and companies have to shoulder their responsibilities, and French companies have scientific, technological and industrial solutions that can face the challenges of climate change and improve and solve biodiversity issues.
For the original communication press of Taoyuan City, please CLICK HERE
The replay of the webinar is only for members, please login to your member's account.