We are glad to host the Minsitry of Labor for our upcoming Rendez-vous.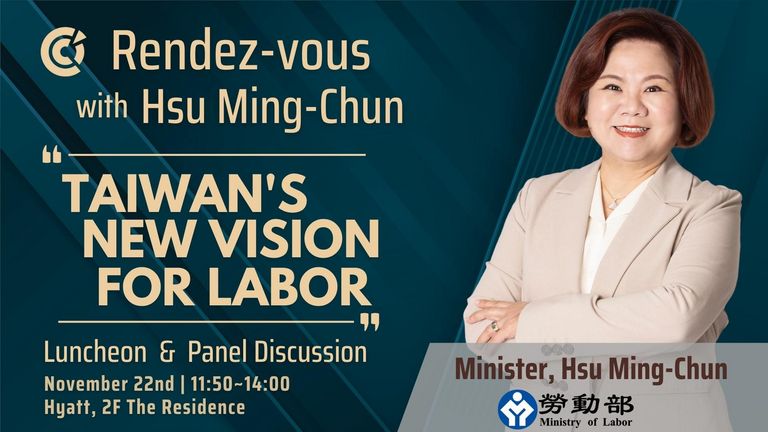 About the Ministry of Labor
The Ministry of Labor falls under the Executive Yuan acting with the interests of employees to ensure "secure work", "safe workplace" and "safe labor". It's primary mission is to promote fair and equitable labor practices, protect the rights and welfare of workers. Working closely with academics and policymakers, the government agency actively contributes to reviewing and enacting workplace regulations. The Primary goals of the incumbent office includes:
Promote multiple channels for vocational training and strengthen the employment service network
Strengthen the employment and management of foreigners, and participate in international labor affairs cooperation and exchanges
Construct a sound and flexible labor standard guarantee mechanism to promote fair collective labor relations
Build an environment of equal rights in the workplace and encourage companies to create a friendly workplace
Complete the occupational accident insurance system and strengthen the workplace safety and health protection mechanism
Strengthen the labor insurance and pension system to ensure the retirement life of laborers
Learn more about the Ministry of Labor:
Registration and Cancellation policy
This event would be held in English and Mandarin. Please remark on the registration if translations devices are needed.
Registration is incomplete without payment. Kindly notify us of your payment details once completed.
Cancellation Policy
Notice before 48HRs: Full Refund
Notice before 24HRs: 50% Refund
Notice on the day: No Refund