The third session of our program will be held by Pascal DELVAL, managing director of RT-Mart Taiwan.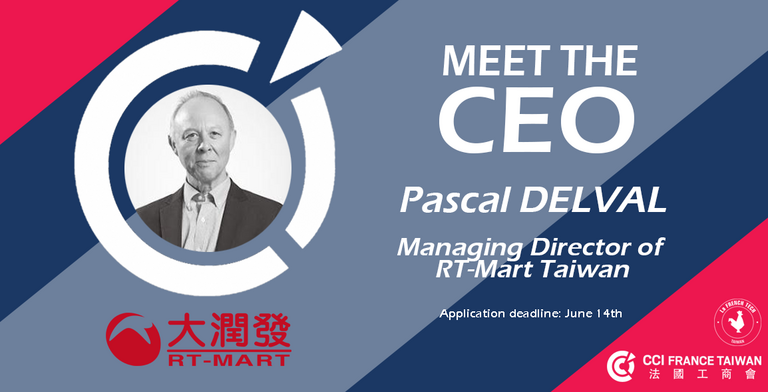 MEET THE CEO: LEARN FROM EXPERTS
The CCIFT in partnership with La French Tech Taiwan is pleased to present you MEET THE CEO:
The MEET THE CEO program gives entrepreneurs and start-ups the chance to meet CEOs of big companies in Taiwan.

Are you looking for insights and relevant advice to grow your business? Join our program and discuss your goals and challenges with executive CEOs during this unique coaching moment!

We are proud to introduce you a pool of top CEOs from a large range of industries ready to hear you and support you.
The third session of our program will be held by Pascal DELVAL, managing director of RT-Mart Taiwan. He will be available for a 2-hour program of 30-minute 1-to-1 meetings with start-ups and SMEs.
ABOUT THE SPEAKER:
Pascal Delval entered the Auchan Group in 1984 as a Supervisor in Grocery in a hypermarket in Boulogne-sur-Mer located in Northern France. He developed the concept in hypermarkets under the brand "Self-Discount".
In 2007, he moved to Russia as Chief Purchasing Officer of Auchan Russia and Advisor of Atak Company based in Moscow for organizational restructuring. Pascal moved back to France in 2009 as Chief Procurement Officer for the Auchan Group. Launched and implemented a worldwide program "Oxygen", designed to streamline the indirect purchasing process. In addition, Pascal opened offices in 14 counties and served as the advisor of Auchan Romania and member of the Worldwide Customer Advisory Board of Ariba, US company based in Palo Alto, subsidiary of SAP.
In 2017, he was nominated as the General Manager of RT-Mart Taiwan, member of Auchan Retail International Board.
Registrations will close on Sunday June 14th (11:30PM)
Selected companies will be informed by latest on Monday June 20th
TERMS & CONDITIONS:
Event for Entrepreneurs and SME only
The CEO will meet up to 3 companies
The companies will be selected by the CEO
HOW TO REGISTER:
Click on "Register Now" and fill in the form. You must attach a short 5-min company presentation. Please click on "Register Now" for more information about the company presentation (PLEASE ATTACH THE MANDATORY SLIDE OR YOUR APPLICATION WON'T BE ACCEPTED).
If you have any problem applying, please apply by sending an email to event@ccift.org.tw