The second session of our program will be held by Amy CHEN, managing director of L'Oreal Taiwan.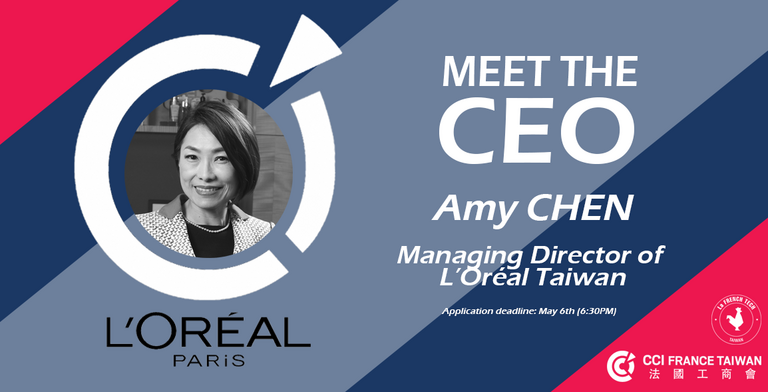 MEET THE CEO: LEARN FROM EXPERTS
The CCIFT in partnership with La French Tech Taiwan is pleased to present you MEET THE CEO.
The MEET THE CEO program gives entrepreneurs and start-ups the chance to meet CEOs of big companies in Taiwan.

Are you looking for insights and relevant advice to grow your business? Join our program and discuss your goals and challenges with executive CEOs during this unique coaching moment!

We are proud to introduce you a pool of top CEOs from a large range of industries ready to hear you and support you.
The second session of our program will be held by Amy CHEN, managing director of L'Oreal Taiwan. She will be available for a 3-hour program of 1-hour 1-to-1 meetings with start-ups and SMEs.
ABOUT THE SPEAKER:
Amy Chen is the Managing Director of L'Oréal Taiwan, the first Taiwanese country manager in L'Oréal APAC zone. Currently, Amy leads 4 business divisions, 17 brands, and nearly 1,400 employees in Taiwan.
Possessing over 25 years of experience in the beauty industry, Amy has engineered many breakthroughs in Taiwan, and persistently achieved new milestones to foster L'Oréal Taiwan's business growth, talent development and social responsibility.
With her brand management expertise, Amy has successfully executed the acquisition and integration of Shu Uemura into L'Oréal Taiwan portfolio, following that with the launch of
several new brands, including Kiehl's, Armani Cosmetics, YSL and Cere-Ve Derma Skin Care. She has also led the company's digital transformation by implementing many pioneering practices in the industry.
Aside from work, Amy also plays an active role in community activities by contributing her best to various organizations and bridge the culture and business exchanges between France and Taiwan. Notably, Amy was awarded "Officier de L'ordre National du Mé rite" by the Government of France in 2015."
Registrations will close on Sunday May 6th (6:30 PM)
Selected companies will be informed by latest on Monday May 11th
TERMS & CONDITIONS:
Event for Entrepreneurs and SME only
The CEO will meet up to 3 companies
The companies will be selected by the CEO
HOW TO REGISTER:
Send a short 5-minute PowerPoint presentation to: event(@)ccift.org.tw.
Click on "Register Now" for more information.