We are fundraising for the Homeless Taiwan Association, kicking off with volunteering at the PonPon Shower House and a Night out on the streets!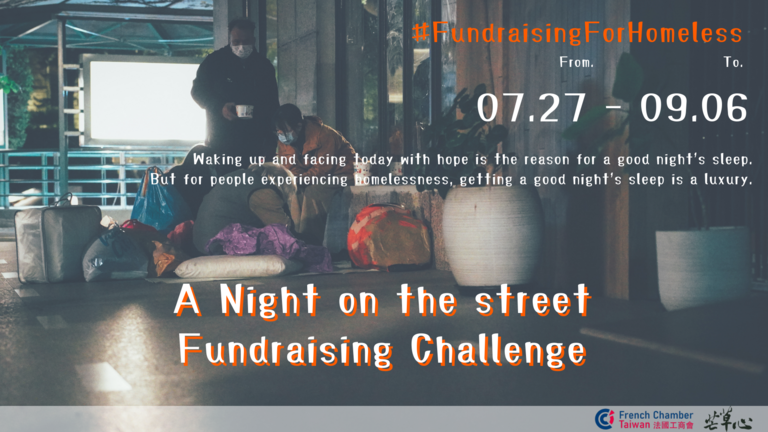 Support the cause, donate HERE
Throughout August 2023, the Homeless Taiwan Association and the French Chamber Taiwan will launch a one-month fundraising program.
On the first day of the program, Stéphane, our General Manager, will volunteer at the PonPon Shower House. There, 80 people a day experiencing homelessness will come to refresh themselves and receive basic necessities.
Throughout the day, Stéphane will welcome the guests. He will help clean the bathrooms and guide the guests to pick up their basic necessities. One month later, to raise awareness and support the services of the Homeless Taiwan Association, Stéphane will sleep on the streets of Taipei for 12 hours.
Our story with The Homeless Taiwan Association
Three years ago, my team and I embarked on a transformative journey to redefine the French Chamber's vision. We made a conscious decision to place social awareness and environmental impact at the core of our identity, ensuring they influence every aspect of our business decisions. As we pursued this noble goal, we sought out meaningful causes to support, and my heart was drawn to the plight of the homeless near the main station and on the streets.
​
In our search for ways to raise awareness and extend a helping hand, we stumbled upon the inspiring video of Cyndi, tirelessly dedicating her spare time to offering the homeless a chance to reintegrate into society, providing them with crucial emotional support. This touching encounter with 'Homeless Taiwan' and 'Hidden Taipei' became a turning point for us. We decided to organize an event that allowed us to experience the hidden streets of Taipei through the eyes of the homeless.
​
The experience was eye-opening. We discovered that many homeless individuals in Taiwan are diligently working under poor conditions, supporting others who cannot work due to disabilities. Additionally, we learned that navigating through retirement can be an immensely challenging ordeal for those without family support.
​
Since then, the French Chamber and I have been wholeheartedly committed to continuing our efforts to positively impact the lives of the less fortunate. One of our ongoing initiatives is participating in the 'A Night on the Street' which allows us to contribute significantly to those in need. We sincerely hope that people will rally behind this meaningful initiative and generously support our cause.
​
Together, we can raise funds and make a tangible difference in the lives of those facing hardships. Join us in our mission to build a compassionate and caring society for all.
Read more about our page on THE HOMELESS TAIWAN ASSOCIATION