The French Chamber's signature CCIFT GALA, the most anticipated event of the French-Taiwan business community each year.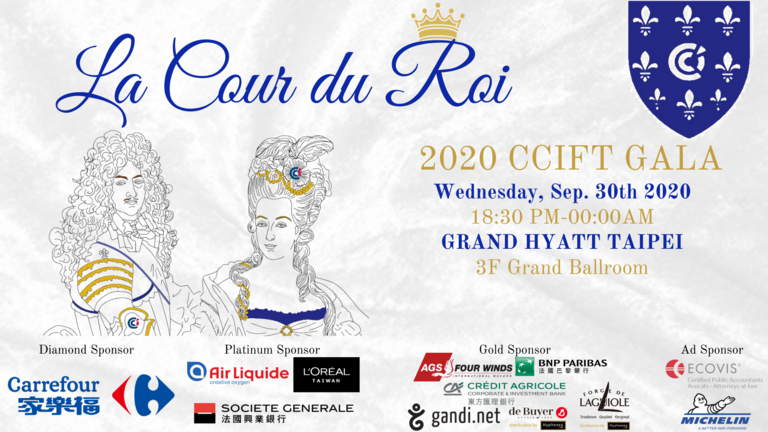 2020 CCIFT GALA THEME
2020 CCIFT GALA-La Cour du Roi
The theme of the 2020 GALA is "La Cour du Roi", representing French history and abundant culture. It is a theme that could best present the glory of France and being entertaining to guests at the same time. We would like to invite you to come with a French noble style that takes us back to the time of glamorous dynasty.
DRESSCODE: Back to the Time of Kings and Queens
DATE
Wednesday, September 30th from 6:30 PM to Midnight
VENUE
3rd Floor Grand Ballroom, Grand Hyatt Taipei
2 Song Shou Road, Taipei City
PRICE
CCIFT Member Package
$3,990 NT per Seat
$38,000 NT for ONE Table of 10 Seat
Non-Member
$4,990 NT per seat
Registration and Sponsorship Opportunity, Please Contact Ms. Iris TSAI at pr(@)ccift.org.tw
HIGHLIGHT OF CCIFT GALA
Reception Cocktail, Main Show, Fine Dining, Lucky Draw, Live Band and After Party
Review of 2019 CCIFT GALA
In 2019, with the theme "French Riviera", the CCIFT GALA was attended by around 433 influential guests from some of the world's top 500 companies, as well as government officials from Taoyuan City and Taipei City and institution representatives.