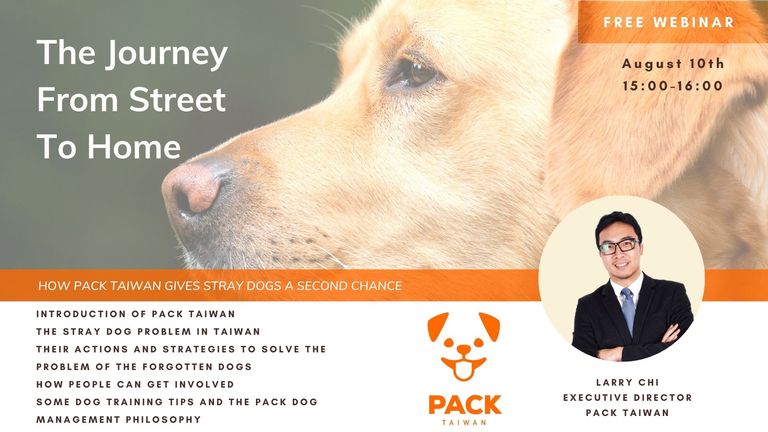 On August 10th from 15:00-16:00, we will be pleased to invite Mr. Larry Chi, Executive Director from PACK Sanctuary to have a presentation about their dog shelter.
During his presentation he will share their mission and also some topics such as:
His background and the introduction of PACK Taiwan

The stray dog problem in Taiwan

Their actions and strategies to solve the problem of the forgotten dogs

How people can get involved

Some dog training tips and the PACK dog management philosophy

Followed by a Q&A
The event is Free for everyone!
---
8月10日下午三點,我們很榮幸能邀請到臺灣巴克動物懷善救援協會的執行長齊文駿先生,來介紹他們的毛小孩庇護所,以及分享動人的動物關懷理念 :
• 臺灣巴克動物懷善救援協會願景與任務;齊文駿先生是如何踏上毛小孩保護這條路
• 台灣的流浪狗現況
• 巴克如何協助收容流浪狗
• 身為大眾,我們該如何盡一份心力?
• 動物訓練技巧;巴克如何管理照護這些毛小孩?
• 問題與討論

免費報名參加講座,一起來關懷毛小孩!

If you want to support them, you can use the link to make your donation
Credit card Recurring Contributions Credit card single donation
About PACK (People For Animal Care and Kindness)
Cares for 400 rescued, abused, unwanted, neglected, and aging animals.
They collaborate with reputable organizations and the government in Taiwan as a key contributor in the reduction of animal suffering, to promote health and welfare of animals, to reduce the number of homeless and unwanted pets, encourage the public to care for and value domestic and wild animals, thus promoting Taiwan on the world stage for animal welfare.
With a highly trained international team, they are now considered by the Taiwan government to be setting the bar in shelter animal care.
PACK is currently addressing one of the main problems in Taiwan regarding neglected dogs and cats, which is the legal and illegal breeding industry.
There are over 20,000 homeless animals in Taiwan as a direct by product of 700 puppy mills and illegal breeders who dump their rejects or spent breeding bitches.
These animals often end up in one of the 70 government or private shelters such as ours where euthanasia is outlawed. Many shelters built for 200 dogs now house up to 1000 or more animals.
PACK TAIWAN