Taiwan Diversity Exploration Education Association
The association promote diversity, inclusion and education to the difference. We like to explore and delight in the richness of humanity. We hope to help everyone to find their place in the environment and society
本協會提供多元性、包容性及教育性,我們喜歡探索並發掘人們豐富的潛能,並希望協助每個人在環境及社會中找到自己的位置。
With the Joëlette Adventure team project, we want to develop leisure and well-being activities for people in a situation of non-autonomy.
透過台灣揪輪冒險隊,我們極力於為非自主狀態的人們提供開發休閒和身心健康的戶外活動。
The Joëlette is a trekking wheelchair. It allows you to reach places where you wouldn't even think of going with any other wheelchair: tracks, trails, off-trail...
揪輪是一台登山輪椅,它允許您進入您意想不到可以使用任何其他輪椅去的地方:跑道、步道、非步道、階梯、山路......
Our professional experience has convinced us of its strong educational power. Because it gives people from different backgrounds the opportunity to take part in excursions and because the disabled person plays a central and active role in each adventure.
我們的專業經驗使我們相信其強大的教育力量,因為它提供了讓來自不同背景的人們共同參與一個團隊活動的機會,並且在每次的冒險中,讓身障朋友扮演著最核心和積極的角色。
Charity project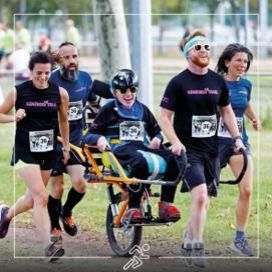 1- Weekly outing for residents of specialized establishments 每週固定安排專業機構病友的出遊
In France, the Joëlette is often used in specialized establishments for daily outings to help disabled people enjoy and benefit from the natural environment. We are keen to develop agreements with specialized establishments to take out residents on a weekly basis. Each agreement will be valid for six months and will initiate a call for donations in the form of sponsorship.
在法國,揪輪經常用於專業機構的日常出遊,讓機構病友們享受戶外並接受大自然的療癒。
我們希望與專業機構擬定六個月的計畫,每週帶機構病友外出,並以捐贈方式來籌備募款活動。
2- Help the elderly to visit again their former homes 協助年長者舊地重遊
With the Joëlette we want to give back the possibility to old people to return to the nature and to revisit places of their youth.
藉由揪輪,我們將提供年長者有機會回歸自然並重溫故鄉古蹟。
3 - Social insertion project 社會邊緣人計畫
The act of pushing the joëlette is very rewarding, because it requires going beyond oneself, the effort is rewarded by reaching the top.
Putting yourself in the service of another person allows you to take care of yourself too.
We want to work with social workers to take people with integration difficulties on our hikes.
事實上,推動揪輪是非常有益的,因為它需要超越自己,努力堅持會因達到目的而得到回報及重拾自我價值,
為他人服務也是為自己負責,我們希望與社會工作者合作,讓社會邊緣人加入我們的徒步旅行。